Webinar – Culture Shock: Surviving Five Generations in One Workplace
May 19, 2020 @ 9:00 am

-

10:30 am

CDT
In Culture Shock: Surviving Five Generations In One Workplace, Dr. Massey does a deep dive into the five generations at work
"But I need me time!"
When faced with a young employee looking at her disappointingly after being told she needed to work over a holiday, author Dr. Joanna Dodd Massey did what many Gen X managers do. She thought to herself, "I've worked through every vacation I ever took!" But, instead of reacting, she paused and found a compromise to serve both the company and her employee. Americans are experiencing a culture revolution unlike anything we have seen since the 1960's. Millennial's and Gen Z are nearly half of the U.S. population and, as consumers and employees, they are dramatically changing the way we work.
In Culture Shock: Surviving Five Generations In One Workplace, Dr. Massey, a communications expert with a Ph. D. in psychology and an MBA, does a deep dive into the five generations at work, examining how they behave and why. Using a humorous and candid writing style, Dr. Massey breaks the news to her cantankerous colleagues that resistance is futile, and they need to change or risk becoming irrelevant in the not-so-distant future.
Her book "Culture Shock: Surviving Five Generations in One Workplace" can be found at: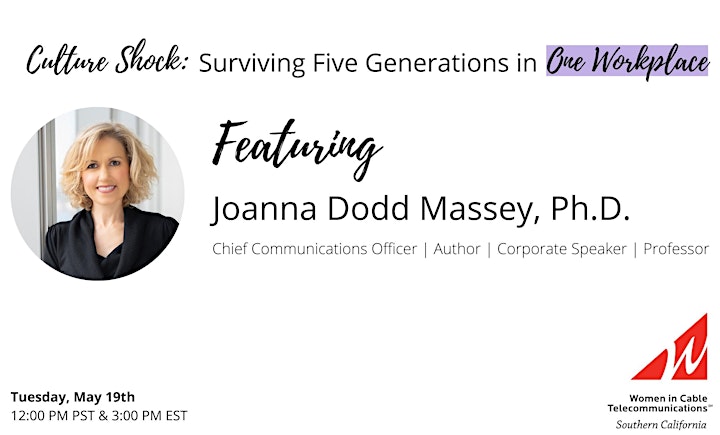 Please contact us for more information on any of the The WICT Network: Midwest events.
Notice of Filming:
The WICT Network: Midwest events may be photographed and recorded via video for The WICT Network: Midwest Chapter.  Both photos and video may be posted online social media sites such as Facebook, LinkedIn and Instagram.  By signing up for an event, you acknowledge that you may be recorded as part of the release in theatrical, broadcast television, home video, internet and/or any and all media now known or hereafter devised, in perpetuity, throughout the known universe and the advertising and publicity thereof. Further, you acknowledge and grant your permission for your likeness and voice to be included therein without compensation, credit or other consideration. If you do not wish to be photographed, recorded or otherwise appear under these conditions, you should not attend an event hosted by The WICT Network: Midwest. Thank you for your cooperation.